Alesayi Beverage Corporation and Tetra Pak Arabia have announced the signing of a US$8.04mn deal at Gulfood 2023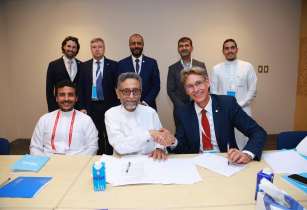 Located in Jeddah, the first phase of the new facility is expected to produce 200,000 litres of dairy and beverage products per day. (Image source: Tetra Pak Arabia)
Under the agreement, Tetra Pak will provide state of the art processing equipment for Alesayi's greenfield facility. The new facility will be fully-functional by the first quarter of 2024, and is expected to produce 200,000 litres of beverages every day.
This agreement is set to boost Alesayi's regional and international expansion plan, while creating significant employment opportunities in Jeddah.
Sheikh Mohammed Ali Alesayi, CEO and chairman of Alesayi Group said, "Our partnership with Tetra Pak will help us further diversify our offerings and provide us with sustainable beverages solutions that we can supply to local, regional, and international markets."
Niels Hougaard, managing director, Tetra Pak Arabia Area, commented, "At Tetra Pak, we commit to making food safe and available, everywhere. Our agreement with Alesayi Group is a testament of our commitment towards providing sustainable packaging and innovative processing solutions to all our customers."
The newly designed factory will be solar powered and the innovative design will ensure reduced water and energy consumption.
At Gulfood 2023, Tetra Pak is showcasing its latest end-to-end portfolio, comprising innovative products and sustainable solutions with reduced environmental impact and a competitive edge for its customers.