A digital twin is an information model of a structure that can contain a large amount of data about the building, its elements, engineering networks, and infrastructure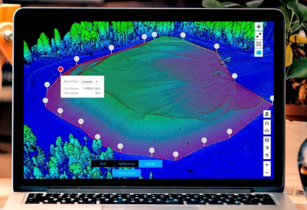 One of the most successful applications of digital twin technology occurs in the construction and infrastructure sectors. (Image source: Aeromotus)
"Immersive approaches to the study of certain objects used to be a dream of scientists and engineers. Today, digital twin technology allow to solve many important tasks, and the "drones - digital twins - augmented reality" combination has become a hot topic." - said specialists from Aeromotus company.
One of the most successful applications of digital twin technology occurs in the construction and infrastructure sectors. Technologies for creating digital copies of buildings, structures, entire complexes and industrial territories have existed since the 1970s, but only recently have they become more accessible, convenient and common. This happened due to the development of computer technologies, specifically, unmanned aerial vehicles and aerial photography data processing methods.
The digital twin provides a connection between the real world and the virtual model due to a large number of online sensors that collect data from all over the city, united by the IoT. And the most important process in creating a digital twin is data collection.
Digital twins are already being used today - not only to monitor and design facilities, but also to create entire systems of centralised automated facility management. But this trend does not end there. It does not merely reflect the process of digitalisation of our society, but is also based on an understanding of the need for such technologies so that any modern city can function effectively, making it safer and more comfortable. In the next decade, the digital twin technology will be the key trend in the construction industry, and drones are an integral element of this process.
Among the already existing examples are Singapore's digital twin and a dynamic virtual model of the Schiphol Airport premises in Amsterdam. Most recently, the Dubai Municipality has launched the 3D Infrastructure and Service Lines Map project, which entails obtaining a 3D scan of underground service lines, guaranteeing delivery of all relevant data and the accuracy of the geospatial database.
What are the advantages of using digital twins in the construction industry?
For the developer or investor
• Visualisation of the construction site;
• Effective risk management;
• Real-time monitoring of design and construction works;
• Assessment of the project's compliance with real-life results;
• Creation of a digital model for the maintenance, reconstruction or dismantling of a structure.
For designers

• Selecting the best design options;
• Minimisation of design errors due to high-precision visualisation;
• Operational adjustments in the working documentation
For builders
• Visualisation of technical solutions and the final results;
• Visualisation of the construction process;
• Linking specific construction tasks to the digital twin model;
• On-site project adjustment;
• Always up-to-date project documentation.
• Remote measurement of volumes, sizes.