Group AMANA has announced the completion and handover of a major US$40.8mn strategic project for Jotun MEIA FZ in Dubai Science Park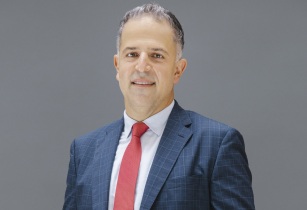 Joe Labaky, general manager of UAE and Emerging Markets at AMANA Contracting. (Image source: AMANA Contracting)
The state-of-the-art facility is part of the company's new MEIA (Middle East, India and Africa) regional office, and covers a built area of 23000 sq m. This is the latest project delivered to the highest standard by AMANA Contracting, with optimal quality and results
The facility houses spaces for corporate users for regional operations and has a main boardroom, meeting rooms, prayer rooms, gym, training rooms, recreational zones, a canteen, and other areas. Additionally, the R&D laboratory building will facilitate high-quality wet, solvent and powder paint testing and research operations, and is located on dedicated floors. It also includes two pilot production labs, a loading area and store, a painting studio, offices for laboratory staff and meeting rooms.
Joe Labaky, general manager of UAE and Emerging Markets at AMANA Contracting, said, "AMANA continues its mission of delivering certainty and quality across milestone projects in the region. The partnership between Jotun and AMANA is built on a foundation of common values: a shared commitment to sustainability and to delivering excellence over many decades in the Middle East. AMANA leveraged innovative technologies to improve on quality and reduce materials, achieving over two million manhours with no lost-time injury (LTI) or any major safety incidents, highlighting our commitment to the highest safety standards."
AMANA used the latest technologies, including BIM and offsite construction to deliver excellence and timely construction. BIM technology was used to map out digital drawings of the project and deliver thorough installation of Modular Systems, instead of conventional methods. The facility also showcased JOTUN's premium products by using 100% Jotun paints and coating products. The project is set to achieve LEED silver classification in the near future.
Aligned with Jotun's global initiative to reduce its carbon footprint by 50% by 2030, AMANA used an innovative technique to help reduce energy dissipation in the building. Chilled water pipes run through the floor slabs, cooling down the concrete floor. This helps preserve room temperature, reducing the energy required to cool the space.