Eltizam Asset Management Group, a physical asset management company located across the GCC, is investing US$5mn in next-generation property technologies over the next three years, a move that is seen to further solidify its market edge and accelerate its business transformation programme called ?Vision 21?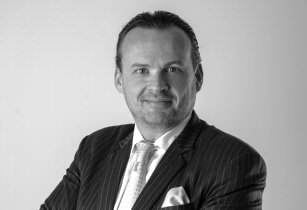 Chris Roberts is the chief executive officer at Eltizam Asset Management Group. (Image source: Eltizam)
The latest development is expected to sustain the momentum following the company?s adoption of a five-year ?Technology Roadmap? as well as recruitment of a technology team in 2018.
The Technological Road Map has outlined the areas of innovation that are going to lead to major improvements for both Eltizam?s core businesses and their customers. Furthermore, the earmarked funds are seen to fast-track Eltizam?s transformation into a ?Customer Company? as embodied in its ?Vision 21? initiative.
?Eltizam believes that sustainable business growth can only be achieved by focusing on the development of its people and processes, ensuring customer happiness, and enhancing operational efficiency. The allocated funds will not only help us achieve these objectives but also better serve our long-term business goals and strategies. Backed by more efficient and effective management of its core businesses, Eltizam is all set to take the leading position in terms of asset technology in the facilities management (FM) industry,? said Chris Roberts, CEO, Eltizam Asset Management Group.
Technological innovation began to take shape at Eltizam in 2018 across three key workstreams, namely core business, customer experience, and work smarter.
On ?Core Business,? the company has recently deployed its state-of-the-art mobility maintenance solution which has seen key operational processes transformed into paperless. Through this solution, equipment scanning, maintenance checklists, inventory ordering and attendance tracking can easily be carried out on mobile devices. The solution?s full integration with the company?s SAP ERP system also eliminates significant administrative workload.
On ?Customer Experience,? Eltizam?s Three60 Communities is continuously redefining customer experience in communities it manages, which comprise over 33,000 units in more than 100 developments across the UAE. Eltizam is also closely working with a proptech startup to pilot customer apps for community management, which will provide residents with a single hub for all their community needs ? from communication with the community team, service charge payments, to booking community facilities and concierge services.
Concerning its ?Work Smarter? workstream, Eltizam is exploring how Internet of Things (IoT), artificial intelligence (AI), and blockchain technologies can help the business over the next 36 months. The company has already deployed a pilot project of IoT temperature and water sensors in one of its flagship projects in Abu Dhabi to aid its FM operations. It also plans to harness the power of AI to improve customer experience and optimise internal resources. With regards to blockchain, not much can be revealed at this time, except that the company is working on how to adopt this in the areas of contract management and payments to achieve efficiencies across its portfolio.
Roberts added, ?We are on the cusp of a paradigm shift in how technology is used to manage the built environment and make our cities smarter. The UAE is leading the way in the smart transformation of cities, and we, at Eltizam, are working hard to stay ahead of the curve. The technology shift will also bring us closer to our mission of achieving exceptional customer happiness in an engaging, safe and secure environment, delivered consistently through innovative solutions by our trusted, talented professionals.?