The International range of products is being expanded with additional coatings and mortars for the repair and remediation of concrete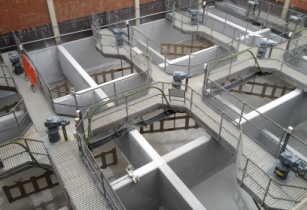 With various application areas, such as tanks, pipelines and water barriers, coatings must be able to withstand chemical, impact and abrasion, hydrostatic pressure and immersion conditions. (Image source: AkzoNobel)
Following the acquisition of Flexcrete Technologies Ltd in June 2017, the full range of advanced cementitious coatings is now being made available as part of the Intercrete series.
All Flexcrete products will be made available to former Flexcrete customers as Intercrete and will be renamed as "Intercrete 48xx" series. The global range will remain the same, consisting of the 13 Intercrete products already available to customers in all regions.

"The rebrand under the Intercrete banner represents a key milestone in the integration project," said Project Manager Brian Mitchelson. "The team has worked hard to navigate the complex process of product integration, so it's very pleasing to reach this stage."
"The success of the integration has been down to the collaboration and commitment of all involved ? in particular, the support of all those based in Leyland. As well as the product rebrand, we've achieved a great deal across all functions and operations and have trained more than 300 people globally in the product technology,? he added.
Each Intercrete product has proven performance and a great track record, combined with clear value propositions for customers. Application and preparation for the Intercrete range are very simple, and as a water-based system, Intercrete helps customers to achieve sustainability and regulatory compliance.
Concrete structures encounter and must protect against, unique conditions in water and wastewater processing plants. With various application areas, such as tanks, pipelines and water barriers, coatings must be able to withstand chemical, impact and abrasion, hydrostatic pressure and immersion conditions. Important Intercrete? products are listed under DWI Regulation 31, for use with potable water, and combine rapid setting properties with anti-carbonation, chloride and hydrogen sulphide resistance. Intercrete repair systems can provide solutions for both new construction and maintenance in all areas of water and wastewater facility.
As part of the International range, these products make it possible to produce complete systems for a variety of mixed substrates, such as steel and concrete buildings. This synergy makes it easier to provide customers with a full solution using only International products and brings Intercrete to a much wider market through broader global reach and technical expertise.