Imdaad, a Dubai-based integrated facilities management (FM) solutions provider with a strong presence in the GCC, today revealed the findings of an extensive market study that it commissioned to examine the UAE?s FM market and forecast future trends within the industry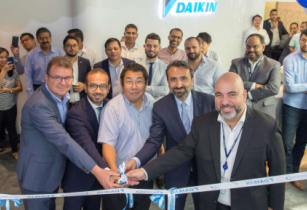 Jamal Abdulla Lootah is the Group CEO at Imdaad. (Image source: Imdaad)
The report was compiled by a US-based business consulting firm involved in market research and growth strategy consulting. It was officially launched during the 11th edition of FM EXPO, which was attended by senior executives, decision makers and strategists of the industry.
According to the report, titled High Level Overview of the UAE Facilities Management Market, revenue in the FM industry stood at almost US$3.68bn as of 2017 and is expected to reach US$6.63bn by the year 2022, posting a robust double-digit CAGR of 12.5 per cent. The strong forecast is guided by numerous factors, such as the UAE?s strong construction growth in lead-upd up to Expo 2020 Dubai, greater affinity on part of project owners to outsource non-core activities and overall improvements in quality of services offered by FM entities, made possible by increased use of reporting software and greater transparency. Abu Dhabi Economic Vision 2030 and 2030 Dubai Industrial Strategy are also anticipated to provide strong demand for FM services.
The report further identified that UAE was in the ?mature? stage of FM industry and is home to at least 100 active competitors of varying sizes, which are largely dominated by domestic companies owing low-entry barriers.
Facilities management services will gain prominence in the coming years as the UAE aims to enhance gains from economic diversification, balance economic growth with sustainable solutions as part of UAE Vision 2021, optimise energy consumption and integrate technology as a means to rein in cost-efficiency across the board.
Jamal Abdulla Lootah, Group CEO, Imdaad, said: ?The study is a major contribution to the UAE?s FM landscape, giving stakeholders such as senior officials, public servants and corporate access to a trove of data and insights that concern the industry. The report covers an array of key talking points, from hard facilities management to energy management verticals, and also contains informed recommendations that will serve as a reliable reference for important strategic decisions such as investments, hiring, assessing competition and for entering into new partnerships.?
He added, ?The report indicates that the UAE has a growing appetite for competitive and efficient FM services. The country?s incredible efforts in diversifying the economy, investments in infrastructure and ambitious deadline-driven construction projects have provided a fertile ground for FM services to take root and thrive. It is no coincidence that the industry is poised for a double-digit growth in revenues. However, we must also heed the restraints cited in the report that restrict companies from exploiting full potential of FM services. Our industry is not immune to the digital and technological shift, and all our strategic decisions should align with this imminent reality. As buildings become complex and smart, FM service providers will have to respond with scalable technology to ensure that assets are fully utilized, operations run smoothly and efficiently and that the services deliver tangible savings. The fact that low-entry barriers have given rise to a large base of small players further compounds competition and the need to retain clients with seamless customer service.?
The study reported that FM delivery and growth in the future will be determined by ?adoption of technology? and measured by ?service efficiency?. It reinforced the pressing need for local FM companies to deploy strategies that integrate technology in traditional services and make them more efficient in order to achieve higher savings and expand profit margins for FM providers and clients alike.
Service and IT integration are expected to have the maximum level of adoption in UAE?s FM market. On the Energy Management (EM) front, sustainable solutions will be the key driver, and this will be supported new energy-saving regulations, LEED-certified buildings and the UAE?s march towards achieving increased building efficiency by 2030.
The study suggests that service evolution, technology innovation and new value propositions will drive the growth agenda in the UAE and beyond. Key trends that will guide discussions in FM will be business productivity, Smart City integration, sustainable workspace, managing intelligent buildings and complete workspace management. Industry outlook in the UAE looks bright, with the forecast of strong revenues anchored on government commitment and vision that is inspiring a wave of confidence across industries.