Technology innovation is expected to boost productivity and increase effectiveness for the GCC?s construction market beyond mega-projects, industry players announced at the ongoing Trimble?s The Construction Summit Middle East in Dubai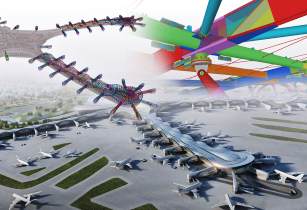 The Construction Summit Middle East is a business forum aimed at enabling top players in the construction industry to boost productivity and increase effectiveness. (Image source: Trimble)
The event comes at a crucial time, with a recent report by research firm Preqin showing that the Middle East and North Africa has US$42bn worth of infrastructure deals completed.
New research from McKinsey Global Institute found that the global construction industry is ripe for disruption. Adopting best practices in seven key areas could boost productivity by 50 to 60 per cent, which would result in gains worth US$1.6 trillion a year, or boost global GDP by two per cent.
?The research suggests large-scale industry players engaged in heavy construction such as civil and industrial work and large-scale housing tend to have 20 to 40 percent higher productivity than smaller firms,? said Ghassan Ziadat, vice-president of Major Projects, McKinsey & Company ahead of his event talk.
With the theme of ?Delivering Innovation in Construction Through Technology?, The Construction Summit Middle East is a business forum aimed at enabling top players in the construction industry to boost productivity and increase effectiveness. The event will be hosted by Trimble, a global construction technology company that drives the digital transformation of construction and engineering projects.
?Construction is currently among the least digitised industries, and the sector will benefit from adapting to, and adopting technologies that increase productivity. Adopting technologies such as digital collaboration tools could raise productivity by as much as 15 percent and reduce project costs by up to 45 per cent,? added Ziadat.
The event agenda will include industry leaders that are driving innovation, such as the Dubai-headquartered firm AESG, whose Middle East projects include Masdar?s IRENA Headquarters and the Expo 2020 UAE Pavilion.
?Government initiatives are helping to drive Dubai and the UAE as one of the world?s most innovative construction markets. Middle East construction firms that combine building information modelling software with innovations, such as 3D printing, will be ideally-positioned to drive business success,? said Scott Coombes, managing partner of AESG.
Civil engineering and construction professionals can learn about the horizontal construction of roads and rails. General contractors and construction managers can enhance project management, cost control, and electrical design with 4D and 5D software such as Building Information Modelling, robotic station layout, and laser scanning. Architects can model concepts, and geospatial professionals can use hardware and software technology for more effective surveying.
?Digital transformation has the power to engage, optimise and empower while reinventing the ways in which organizations approach their industries,? said Mohammed Arif, head of Windows and Devices, Microsoft Gulf.
?Trimble?s The Construction Summit Middle East comes at a crucial moment for the region?s construction industry, as companies throughout the sector look for ways to innovate ? to do more with less. This event is a great platform for Microsoft to showcase our devices and solutions, that are built from the ground up to work as business accelerators in the construction sector, enabling them to thrive and bridge technological gaps ? empowering them to achieve more,? added Arif.
Breakout sessions will cover regional markets and three streams ? buildings, geospatial, and civil and marine construction. Attendees can experience open building information modelling solutions across cast-in-place concrete, precast concrete and steel fabrication such as Tekla Structures, Tekla Structural Design, and Trimble Connect collaboration environment. Construction technology distributor SITECH Gulf will serve as the event?s leading partner.
?The Construction Summit will be the Middle East?s only thought leadership platform and construction event in 2017 that will explore how hardware and software can transform the construction continuum. Attendees can experience the latest construction technologies, gain key market analysis, and develop business partnerships to drive business growth,? stated Paul Wallett, regional director of Trimble Solutions Middle East and India.