Logistics service provider C Steinweg Oman, which operates cargo at the Sohar Port and Freezone, increased ground handling capacity after bringing in a Gottwald HMK 6407 crane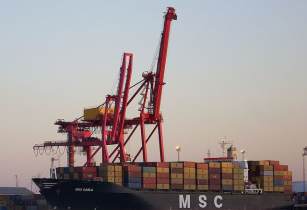 The Gottwald crane has a lifting capacity of 100 Mtonnes. (Image source: MichaelGriffin/Flickr)
The crane has a lifting capacity of 100 Mtonnes, stated port officials.
Edwin Lammers, executive commercial manager of Sohar Port and Freezone, said, ?The crane is a significant investment and one which will support growth at the port as the number of ships and the volume of cargo handled at its terminal continues to grow. Demand for project and break bulk is expected to increase in line with investment in major road and rail projects in Oman and the additional capacity will be significant going forward.?
C Steinweg Oman?s operating capacity has gone up to three mobile harbour cranes. Maximum single crane lifting capacity has increased from 80 Mtonnes to 100 Mtonnes.
Some of the major projects that require the port services include the US$250bn Gulf Railway, US$2.5bn Batinah Expressway and the Sohar Airport. Several million tonnes of contruction materials and raw materials will be carried by the cranes, stated port officials.