Deutz premiere its new TCD 9.0 four-cylinder diesel engine at Asia's largest trade fair for construction equipment, broadening its product range through the alliance with Liebherr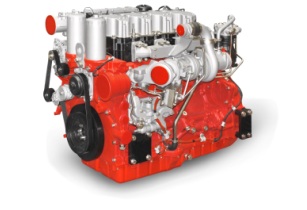 The new DEUTZ TCD 9.0 premiered at Bauma 2016 in Shanghai. (Image source: deutz)
The Deutz TCD 9.0 four-cylinder diesel engine was premiered for the first time in the world at Bauma China 2016, and is the first in a new generation of engines produces in alliance with the Liebherr Group.
Michael Wellenzohn, member of the board of management of Deutz AG said "By adding new engines from the alliance with Liebherr, we are enhancing our product portfolio and can now cover further power output ranges and applications. Furthermore, having the TCD 9.0 made in Dalian will give us the proximity to our Chinese partners that we need. We continue to see a great deal of growth potential in this market when it comes to advanced technology.?
The TCD 9.0 has a power rating of 300 kW and produces 1,700 Nm of torque. The compact design of the engine makes it easy to install in a number of different applications, most suited to excavators and wheel loaders, according to Deutz.
While this particularly engine is to be manufactured for the Chinese market, the next generation of these engines, particularly with the alliance with the Liebherr Group, it is only a matter of time before the TCD range appears in the Middle East.
?Deutz is continuously expanding its engine range and has long-standing expertise in modular solutions for exhaust aftertreatment,? says Michael Wellenzohn.