In a massive fleet expansion, logistics provider in Kuwait ? Integrated Logistics Company ? has taken delivery of a new Demag CC 3800-1 crawler crane, 20 Terex AC 100/4L all terrain cranes and 10 Terex Explorer 5600 all terrain cranes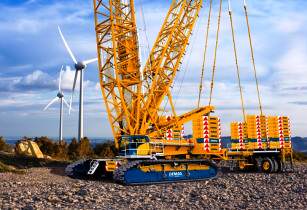 The Demag CC 3800-1 lattice boom crawler crane is the first-of-its-kind in the region and will allow the Kuwaiti company to meet customers heavy-lifting demands. (Image source: Terex)
The new cranes will join a fleet of more than 2,000 machines and be utilised by Integrated throughout the Middle East and North Africa (MENA) region. The company?s Demag CC 3800-1 lattice boom crawler crane is the first-of-its-kind in the region and will allow them to meet customers heavy-lifting demands.
?Our growth has been driven by the relentless pursuit being the best logistics provider in the region,? said Saleh Al Huwaidi, CEO at Integrated Logistics Company.
?To achieve that reputation, it?s vital for Integrated to have the best equipment available and work with equipment suppliers who do an outstanding job of supporting us. Since 2005, we have purchased more than 200 Terex and Demag cranes because the machines are built well, and the team at Terex Cranes is responsive to our needs.?
Integrated?s new 650-tonne CC 3800-1 crawler crane has a maximum load moment of 8.484-meter tonnes and features a wide array of safety features, including the award-winning fall protection system. The company ordered the unit with a Superlift structure for increased lifting capabilities. ?We selected the CC 3800-1 because of its ability to outperform larger 750-tonne class cranes in many applications,? added Al Huwaidi.
The new AC100/4L and Explorer 5600 all-terrain cranes are being deployed throughout Kuwait, Qatar and Saudi Arabia. Integrated has several ongoing projects that require the mobility and impressive lift capacities of these Terex units. ?These mobile cranes have proven to be a versatility option for our crews with their extremely long booms,? explained Al Huwaidi. ?Our operators also like the IC-1 Plus control system equipped on these machines, which gives them access to real-time calculations to improve the machine?s performance at higher capacity ranges.?
The newly commissioned cranes join a vast crane lineup which includes two recently purchased 1200-tonne, Terex AC 1000-9 all terrain cranes, which were also the first and only mobile cranes of this lifting capacity in the region.