Abu Dhabi-based Galva Coat announced that it has commissioned a fully automatic welding line for the mass production and supply high-quality products to its customers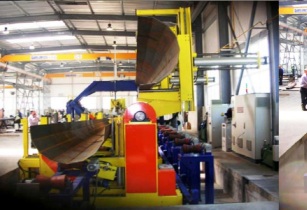 The welding line is expected to provide better energy saving techniques with low occupational hazards. (Image source: Galva Coat)
The company said that the welding line was imported from Italy aiming to achieve energy saving techniques with minimal occupational hazards.
According to the company, the welding line includes five power rolls on platform and seven power rolls on entrance for holding a half-shell to allow the handling system to operate. In addition, it also includes two shells handling and coupling systems in order to place two half-shells one against the other with the edges.
The system also has an automatic welder for both single and double shell poles and one pull carriage aiming to achieve clamping at the pole shell and moving it at a controlled speed during the welding process.
Galva stressed that the welding line has HS system automatic pole shell that straightens the system while welding to ensure that the pole results straight after the hot dip galvanising process is finished. The electric control and management system and remote assistance system aim to mitigate the functionality of connection remote assistance with minimal technical intervention.
The supervision and production report system in the welding line enables remote visualisation, from office to other sites, by providing access to the server application for production control of the station.
Established in 1996 in the industrial city of Abu Dhabi, Galva Coat received Sheikh Khalifa Industry Golden Award three times as well as Sheikh Khalifa Excellence Quality Appreciation Award.