New MB crushers exceed sales forecast after a year of being on sale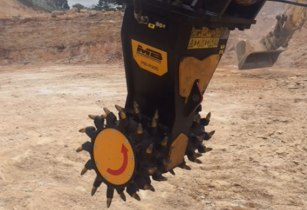 The MB R900 at work. (Image source: MB Crushers)
Already holding the record for the most complete range of crushers and screeners bucket in the world, MB Crusher has recently expanded its selection with new and exclusive products such as the hydraulic drum cutters MB-R, available in three models, for excavators from 6 to 35 tonnes.
Suitable for rocks and for levelling concrete surfaces, the drum cutters MB have won the trust of even the more demanding operators with their high performance.
Accuracy and reduced size makes them ideal for applications in urban areas and confined construction sites, generally difficult to manage with large machines. The new cutters are extremely compact and specifically designed with a low centre of gravity to significantly improve the overall balance and drastically reduce the strain and vibrations on the excavator arm.
The only one in the world with the patented system, the twin direct drive motor, allows force distribution in the two drum heads. In case of materials with different harnesses, MB drum cutters mould by using a proportional force depending on the tenacity of the material, thus resulting in increased stability and reduced stress on the excavator arm.
Last but not least the special MB custom hydraulic system limits the demand for fluid and provides a significant cooling effect, prolonging the excavator business.