Egyptian Suez Canal Authority (SCA) has signed a US$1bn partnership deal with a Saudi Arabian company to establish iron and steel factory in Ain Sukhna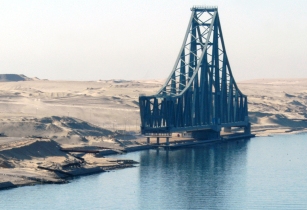 The Suez Canal in Egypt from the USS Wasp (Image source: US Navy/Wikimedia Commons)
The new site will have the capacity to produce 1.2mn tonnes of steel annually and will be built on a plot owned by the authority, SCA chairman Mohad Mameesh stated.
The newly-formed company is called Suez Canal for Iron and Steel.
Mameesh added that the partnership agreement will be worth US$500mn while the investments are estimated to be worth around a US$1bn.
The partnership agreement comes as the Egyptian Suez Canal Authority makes good on its policy commitments to form new partnerships with international firms and organisations to boost the national income of the country and provide more employment opportunities for its young people.
The Saudi Arabian organisation affirmed that the partnership agreement is the beginning for a number of contracts that aim to establish more industries in Egypt.