The inauguration of the 680-km long road linking Oman and Saudi Arabia next month will link the two GCC countries by land for the first time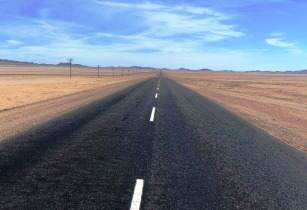 The new road will cut the distance from Oman to Saudi Arabia by more than 500 km. (Image source: Pixabairis/Pixabay)
The new road will cut the journey by more than 500 km between the two countries. Currently, the distance between Oman and Saudi Arabia via UAE is nearly 2,000 km.
The opening of the road is expected to create investment opportunities, boost tourism and business between the two countries, Gulf News reported.
More than US$517.2mn has been spent by the Omani government on its territory while Saudi Arabia has spent US$266.7mn. The work on the road linking the two countries via the Empty Quarter was completed in 2013, according to Omani authorities.
A 160-km stretch of the road is in Oman and starts from Tanam area of Ibri province, while 566 km is in Saudi Arabia. In the kingdom, the stretch will link Haradh-Batha road with Al Shiba oilfield at a length of 319 km and the stretch between Al Shiba and to the Omani border will be 247 km.
The road has been built through the moving sands of the Empty Quarter, the largest contiguous sand desert in the world, with an area of about 640,000 sq km. The project involved constructing sand bridges between high rising dunes, according to Famco, Saudi Arabian contractor, and around 130mn cu/m of sand was transported to construct the bridges.
It took Oman two years to build its side while the Saudi Arabian authorities took four years to build the road on their side due to the longer distance and problems encountered in the moving of the sand.
Salim Al Hakmani, an economic expert, said that the new road will enhance the volume of trade and economic exchange as goods can be traded without having to pay additional customs duties.
The road leading to the Empty Quarter passes through the main oil and gas production areas of the north of Oman as well as the GCC railway track, which will attract more investments and lead to economic integration of the countryside.
A road will be built soon to link Sohar and Ibri province and then to the new road, making it easier to transport goods to Saudi Arabia from Sohar Port instead of going through Dubai and Qatar.
Meanwhile, Oman?s Ministry of Transport and Communication has floated tenders for investment along the stretch for building integrated service stations on the Ibri-Empty Quarter Road, leading to the border with Saudi Arabia.