UK-based digital encryption firm iStorage has launched a range of unique USB flash and portable hard drives that can be accessed by PIN code, in a move to address data security issues in the Middle East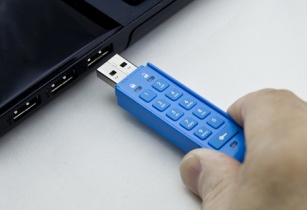 Image: The USB flash drives from iStorage have an alphanumeric button-based keypad to secure it with a PIN code. (Image source: iStorage)
The range includes datAshur USB drive, diskAshur PRO portable hard drive and datAshur Personal.
The company said in a statement that Kuwait's Panorama Consulting and Business Solutions will be the official distributor of the range in the region.
According to the Kuwaiti company, as a region, the Middle East prides itself on its progressive attitude towards new technology, with strong interest in the latest technologies and approaches. There is also a growing cultural preference to keep data secure. While there are currently no regulations in place specifying the need for ultra-secure portable storage devices in the Middle East, there is a demand for it, it added.
Marwan Zalloum, managing partner of Panorama Consulting and Business Solutions, said, ?Through partnership with iStorage, we are able to provide financial services, telecommunication, private and government sectors with the highest quality data security storage devices that meet their adopted security standards implementation.
?The devices are unique and provide comprehensive security measures that the Middle East demands at this time when data security is paramount.?
John Michael, CEO of iStorage, added that they are delighted to partner with Panorama Consulting and Business Solutions to establish a strong presence in the region where they believe there is great potential for iStorage?s products and growing awareness of the need for robust data security.