Bridgestone Middle East & Africa East (BSMEA), subsidiary of Bridgestone Corporation, has appointed Zantrak International as its first sole tyres and tubes distributor in Iraq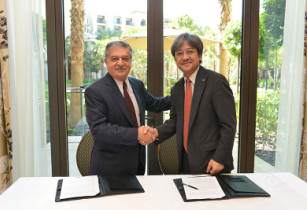 Khalil Zantout of Zantrak International (left) with president of BSMEA Shoichi Sakuma. (Image source: Bridgestone Corporation)
Under the agreement, Zantrak International will exclusively distribute Bridgestone products in the country for trucks and buses, light trucks, passenger cars and motorcycles as well as for industrial and agricultural use.
The new distributorship is expected to further strengthen BSMEA?s presence in Iraq by increasing its ability to offer high quality products and services to the country.
Bridgestone Middle East & Africa president Shoichi Sakuma said, ?Iraq is a key Middle East growth market for Bridgestone and we are delighted to partner with Zantrak International to support the expansion of our marketing and sales activities.
?We are confident that Zantrak International will deliver strong sales across Iraq as a result of its commitment to excellence and its extensive nationwide presence.?
Zantrak International chairman Khalil Zantout added that the company was proud to partner with BSMEA as the first distributor for Bridgestone tyres and tubes in Iraq.
?We look forward to working closely with Bridgestone to achieve results and to operate as an effective distributor by developing a robust customer base for the brand in our market,? Zantout noted.