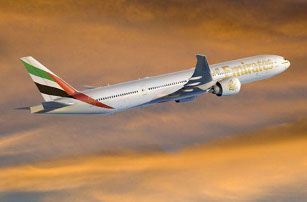 Emirates' chairman Sheikh Ahmad bin Saeed Al Maktoum told reporters that the deal is valued at US$18 billion and Emirates has options to purchase another 20 Boeing 777-300 jets. Delivery is set to take place in 2015, he added.
If Emirates decides to go for an additional 20 Boeing 777-300 ER, then the deal is worth about US$26 billion, Sheikh Ahmad said. He added that the airline was looking at a range of funding options including export credit agencies and Islamic financing to pay for the order.
Ambitious plan
Sheikh Ahmed said the new order underlines Emirates' strategy. "We have an ambitious and strategic plan to continue growing our international network and especially increasing our long-haul, non-stop routes," said Sheikh Ahmad
Boeing delivered 127 commercial airplanes in the third quarter of 2011, including 100 of its best-selling 737 narrowbodies and 21 widebody 777s.
The 777-300 ER extends the 777 family's span of capabilities, bringing twin-engine efficiency and reliability to the long-range market. The airplane carries 365 passengers up to 14,685 km.