Dnata, the ground-handling arm of the Emirates Group,?has announced an investment outlay of US$70mn for global expansion, of which most of the money will go into purchase of essential Ground Support Equipment (GSE).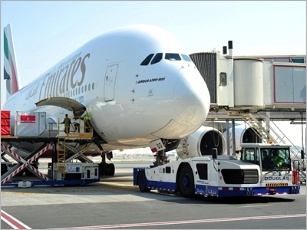 Dnata has announced an investment outlay of US$70mn for global expansion.
This includes aircraft pushback tractors, container/pallet loaders for all wide-bodied aircraft, air conditioning units and ground power units, the company said.
Major investment projects
"The investment will span Dnata operations in many of its businesses internationally, which now extends to over 38 countries and employs over 20,000 staff," the company said in a statement.
"The spend will include a variety of major investment projects around the globe which have been identified and planned to help teams maintain their level of service and in fact exceed expectations of all its customers."
"We need to have the most modern equipment, the best facilities and the most innovative and reliable business processes to ensure we maintain a high level of efficiency and give customers good value for money," said Gary Chapman, President, Dnata.
New cargo facility
Dnata, formed in 1959, has played a crucial role in helping develop the aviation industry in Dubai. The company's Erbil operation has been expanding steadily, with investments worth US$1.5mn being raised to cope with growing business demands. A brand new cargo facility is about to open in addition to a maintenance facility for GSE.