AD Ports?group, the region?s premier facilitator of logistics, industry and trade has partnered with UAE-­based, multi­business conglomerate Ghassan Aboud Group to set up one of the region?s largest multi­category wholesale food trading and logistics hubs in KIZAD, in collaboration with Rungis.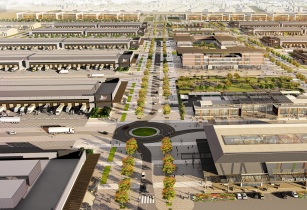 KIZAD provides a fully integrated trade and logistics platform for food companies looking to expand in the region. (Image source : AD?Ports Group)
The ?Regional Food Hub ? Abu Dhabi, in collaboration with Rungis?, aims to bring together wholesale buyers, sellers, logistics players, consolidators, and distributors from across the world, enhancing the diversity of all food categories available for consumers in the UAE and wider region.
Rungis International Market is the largest wholesale fresh food market in the world. It currently hosts 1200 companies, serves 18 million consumers and has a turnover of more than US$11bn. The project will partner with the world?s leading wholesale market players to ensure the services and facilities have world­class standards, with a sustainable, hygienic, zero­waste ecosystem approach to cater to post­pandemic requisites. The project will facilitate trade across proteins, seafood, pulses, rice, fruits, vegetables, dairy products, dry foods and fresh flowers. Food companies from all countries are said to be able to offer their products and buyers will have a selection of fresh items managed in a safe, clean environment positioning the UAE as an important part of evolving global food supply chains.
Covering a land area of 3.3 sqkm in KIZAD, the Regional Food Hub ? Abu Dhabi, will be one of the largest of its kind in the region, says AD Ports. The ecosystem has been planned to feature trading pavilions, logistics services, refrigerated and ambient warehouses, critical government services, waste recycling facilities and various other support amenities and services. The hub will leverage modern technology to offer a digital marketplace to provide a range of services for tenants and customers to increase adoption and ensure continuity while easing business by supporting key synergies between Abu Dhabi?s government entities and trade enablers.
KIZAD provides a fully integrated trade and logistics platform for food companies looking to expand in the region. Located near Khalifa Port, KIZAD enables multimodal connectivity via sea, air, road and rail networks in the future, with world-­class infrastructure as well as water and electrical power at a competitive rate. Its integrated service offerings include packaging and food processing providers, enabling companies that use the food hub to benefit from significant economies of scale in the preparation and transport of their products.
Captain Mohamed Juma Al Shamisi, managing director and group CEO, AD Ports Group, stressed the importance of this project and its role in supporting the UAE?s efforts to be number one on the Global Food Security Index by 2051. He said, ?The development of new resources such as this, which will bring together leading local and global suppliers, supporting them with advanced innovation and world­-class infrastructure, is testament to AD Ports Group?s commitment to facilitate food trade in line with the key objectives of the UAE?s National Food Security Strategy that was launched by our wise leadership in 2018.?