P&O Maritime Logistics is all set to enter the container carrying market, helping to relieve stretched supply chains after recently completed the first-ever container fitting modification to the deck of a multi-carrying vessel (MCV)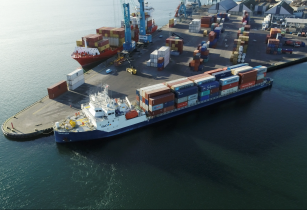 As global supply chains face continued pressure on container vessel availability, the newly modified MCVs will support customer Unifeeder to alleviate supply chain constraints. (Image source: P&O Maritime Logistics)
The containerised market entry marks a first for P&O Maritime Logistics and comes off the back of the maritime solutions provider working with customer Unifeeder on providing services on container routes with low number of containers but a need for a fast turnaround due to logistics limitations, low volume high frequency routes.
The new model of container carrying MCVs provide a solution to the high demand of container carriers in Europe ? alleviating pressure on supply chains being felt across the continent and worldwide. Container fitted MCVs are ideal for lower volume, high frequency shortsea routes as well as trade routes through rivers and to shallow water ports like the transit between Turkey and the Caspian via the Russian rivers, where multiple vessels are expected to be employed next year.
As part of DP World, P&O Maritime Logistics is looking forward to adding value to the global portfolio of DP World ports assisting in decongestion, ability to serve minor adjacent terminals and therefore drive main line volumes to DP World facilities. The same model will also be applied to other global container terminals which are facing congestion in the current container market.
Martin Helweg, CEO of P&O Maritime Logistics, said, ?With five more vessels slated to enter the containerised market, we?ll soon be servicing niche trade lanes stretching from the Americas to Southeast Asia. We?ll be working closely with our parent company DP World in rolling out of containerised service, beginning with fellow DP World-owned company shortsea feeder service provider, Unifeeder.?