Abu Dhabi Ports Company (ADPC) received three new Super Post Panamax 'Ship to Shore' (STS) container cranes and reaffirmed that Khalifa Port will open in the fourth quarter of this year.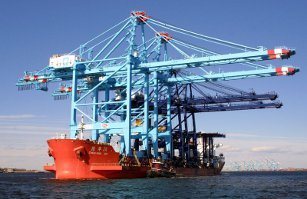 ADPC nearing completion of Phase I of Khalifa Port.
Significant milestone
The first batch of Super Post Panamax 'Ship to Shore' (STS) container cranes arrived at Khalifa Port marking significant milestone for Khalifa Port as it readies for completion of Phase 1.
Martijn Van de Linde, CEO of Abu Dhabi Terminals, remarked on the milestone: " As the operator of Khalifa Port, we will be ready to start operations of the region's first semi-automated container terminal in 4th quarter 2012, and the official welcome of these fantastic cranes marks an important and very visible mile stone for us. The work is on schedule, but there is still a lot to do."
The Chinese company Shanghai Zhenhua Heavy Industries Co. Ltd (ZPMC), which designed and constructed the cranes, is due to deliver a second batch of three cranes in Q2.
95 per cent completed on Phase 1
ADPC celebrated the arrival with an unveiling ceremony in the presence of Chairman, Dr. Sultan Al Jaber; CEO, Tony Douglas; Captain Shamisi, Vice President of Ports and Martijn Van de Linde, CEO of Abu Dhabi Terminals on the port island.
Commenting on the arrival of the cranes Captain Mohamed Al Shamisi, Vice President Ports, ADPC, said: " Phase 1 of the port is now 95 per cent completed, and the arrival of these cranes signal that we are now on the home straight."
The STS cranes, at 44 metres high under the spreader and a lifting capacity of 110 tonnes, are among the largest of their kind in the world.
First semi-automated port in region
"Once complete, Khalifa Port will continually review and upgrade its services with the latest in the industry's technology, and more facilities will be added, such as bunkering, break bulking and the handling of general cargo."
On completion, the Khalifa Port will be the first semi-automated port in the region. It is equipped to handle an initial capacity of 2mn TEU container traffic and 12mn tonnes of general cargo annually.
As part of its capacity to handle container and cargo traffic, Khalifa Port will also handle 4 million tonnes of raw material cargo a year delivered to the dedicated and already functioning EMAL berth at the port.