Al-Futtaim Logistics (AFL) signed a three-year agreement to acquire 32 warehousing units at Dubai Industrial City, a member of TECOM Investments Manufacturing and Logistics Cluster.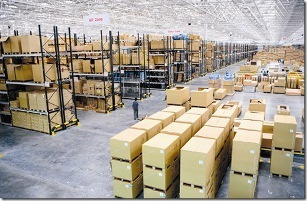 Image credit to log.ae
With a total area of 30,720 sqm, the warehouses have a capacity to store over 30,000 pallets. The core purpose of the facility is to provide AFL with a complete logistics and distribution solution, solely dedicated to the group's key retail client, IKEA, which has outlets at Dubai Festival City and Yas Island in Abu Dhabi.
Abdullah Belhoul, Managing Director of the Manufacturing and Logistics Cluster at TECOM Investments, said: "The presence of Al Futtaim Logistics at Dubai Industrial City will add further value to our business partners. Offering a total capacity of seven million sq. feet of built up warehousing units, Dubai Industrial City is in a strong position to cater to the high demand and growing needs of this expanding sector."
The 560mn sq. ft. dedicated industrial destination comprises six clusters featuring food and beverage, base metal, mineral products, chemicals, transport equipment and parts, as well as machinery and mechanical equipment.
Mitch Jones, General Manager, Al Futtaim Logistics, said: "The warehouses at Dubai Industrial City have enabled us to consolidate operations in a single location after operating from two locations for several years. The consolidation into one site located between Dubai and Abu Dhabi allows us to make great improvements in service efficiency and significantly reduce logistics cost for the client. The location of the warehousing facility provides us with a highly effective distribution solution to service the IKEA stores within the UAE."
Tom Nauwelaerts, Managing Director, Al Futtaim Logistics, said: "We put the customer at the centre of all our actions, and this new IKEA warehouse highlights our ongoing commitment to strengthen the IKEA brand and enhance the customer experience at every touch point. This new warehouse operation in Dubai Industrial City will be a critical asset to Al-Futtaim Logistics and will enable us to achieve the challenging targets and objectives that we have set for the IKEA brand in the UAE and the GCC region."
Ideally located near Jebel Ali Port and adjacent to the new Al Maktoum International Airport, overlooking the main transport gateways and mid-way to Abu Dhabi, Dubai Industrial City's state-of-the-art warehouse facilities incorporate the highest design safety level.