The Ministry of Technology and Communications (MTC), Oman and Asyad group have signed a memorandum of understanding (MoU) to leverage ICT in developing the logistics sector in the sultanate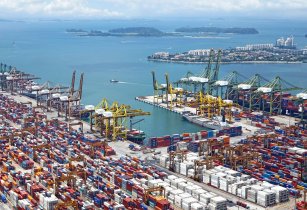 MTC will provide technical consultancies in using 4IR technologies. (Image source: Jason Goh/Pixabay)
The MoU was signed by Salim bin Sultan AlRuzaiqi, CEO, MTC and Abdulrahman Al Hatmi, CEO, Asyad.
Under this MoU, MTC and Asyad will cooperate to develop programmes and labs of the Sas Centre for the Fourth Industrial Revolution Technologies, which will be launched later on throughout this year, to meet the requirements of logistics sector in the sultanate.
Additionally, MTC will provide technical consultancies in using 4IR technologies and will conduct training programmes for Asyad?s professionals upon the establishment of the Centre by MTC IT experts.
On the other hand, Asyad Group will contribute to the development of programmes that would be offered by the Centre. Furthermore, Asyad will facilitate conducting field experiments for the group subsidiaries and implement a number of projects by contracting with SMEs working in the ICT field.
?Believing in the importance of emerging technologies, specifically the technologies of the 4th IR such as artificial intelligence and internet of things in moving and accelerating the growth of various economic sectors, we are in the process of establishing technologies Centre of the 4th IR during this year. This partnership comes as part of the preparations for the operation and management of the Centre and activating its role in promoting these sectors,? said Al Ruzaiqi.