Dubai Maritime Authority (DMCA) has opened the registration and licensing centre in Umm Suqeim to achieve customer happiness through better and enhanced experiences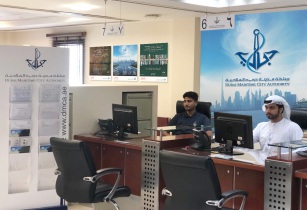 DMCA?s customer happiness centre in Umm Suqeim. (Image source: DMCA)
The new centre is set to provide a faster and more simplified approach in applying for marine transport licensing based on the guidelines designed to comply with the set maritime safety regulations, local environmental requirements and international standards.
Amer Ali, executive director of DMCA, said, ?The opening of the new centre is a step forward in the move towards achieving customer happiness and a quality-focused move in facilitating better maritime licensing services, which is crucial in ensuring that maritime operations are managed in a manner that serves the goals of the Dubai maritime sector strategy.?
The centre serves as a unified platform designed to complete inspections, technical examination, registration and issuance of permits, saving time and energy of the users of marine transport.
Hamed Ali Hassan, director of registration and licensing department, DMCA, said that the new centre will receive customers from Sunday to Thursday.