Provider of marine and energy power solutions W?rtsil? has agreed a Memorandum of Understanding (MoU) with leading Middle East shipyard Nakilat-Keppel Offshore & Marine Limited (N-KOM)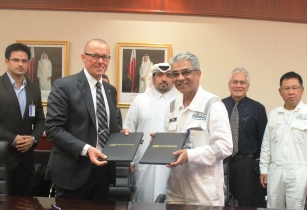 The MoU was signed last Thursday 26 February by N-Kom CEO Chandru Rajwani and Wartsila managing director Seppo Hautajoki. (Image source: N-KOM)
The MoU was signed in Doha by N-KOM CEO Chandru Rajwani and Seppo Hautajoki, managing director of W?rtsil? Doha LLC and W?rtsil? Gulf FZE (Dubai).
Under the agreement, the firms will work together to improve business opportunities on repair and maintenance services for marine vessels, as well as both offshore and onshore structures in Qatar.
Signing the MoU, Rajwani said, ?N-KOM is always on the lookout for long-term strategic alliances to further our business interests.
?Having W?rtsil? operate within our premises, offering in-demand marine services, such as main engine piston crown reconditioning and chrome plating, allows us to better respond to the needs of our customers as we strive towards becoming the preferred shipyard delivering solutions.?
Hauajoki added, ?W?rtsil? and N-KOM share the same mission of providing the best services and support solutions to the marine industry in Qatar?by signing the MOU, W?rtsil? will be able to enhance further its cooperation with N-KOM, and it will help us to continue our leading role in this field.?