Saudi Arabian company ACWA Power has signed an agreement with Eni to develop hydrogen, water desalination, and other R&D technology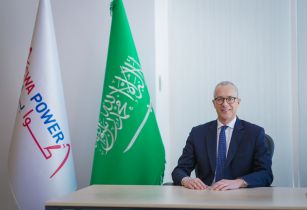 Marco Arcelli, CEO of ACWA Power. (Image source: ACWA Power)
These agreements were signed with six Italian partners at the Saudi-Italian Investment Forum in Milan on 4 September to bolster cooperation in the aforementioned fields.
The six Italian companies are the Confindustria Federation of Small, Medium and Large Enterprises, the major energy company Eni, the utility and waste management company A2A, the industrial solutions provider Industrie De Nora, the manufacturer of specialty additives Italmatch Chemicals, and the provider of engineering and classification solutions RINA.
Confindustria and its allies will evaluate with ACWA Power the possibilities for the development of green hydrogen and water desalination projects, as well as long-term supply and manufacturing collaborations, through their collective network of 222 associations and more than 150,000 firms.
Eni and ACWA Power will look at ways to work together on green hydrogen, renewable energy, and R&D for cutting-edge, sustainable technology. A2A and ACWA Power will examine the prospects for green hydrogen imports into Italy as well as initiatives in their shared areas of interest. The possible use of green hydrogen and its derivatives in seaborne shipping will be looked into by RINA and ACWA Power.
Additionally, Industrie De Nora will offer ACWA Power its electrochemistry and sustainability technology knowledge.
The possibility of localising the manufacturing of water treatment products in Saudi Arabia with long-term supply agreements to its operations, as well as chances for R&D and knowledge exchange, will be investigated by Italmatch Chemicals and ACWA Power.
The Italian Ministry of Enterprises, Made in Italy, and the Saudi Arabian Ministry of Investment (MISA) together sponsor the Saudi-Italian Investment Forum. With more than 90 years of diplomatic ties, the two countries' bilateral commerce is currently at over US$11bn.
Marco Arcelli, CEO of ACWA Power, said, "We look forward to bringing together Saudi Arabia, home of one of the largest decarbonisation programmes in the world, with a rapidly expanding and diversifying economy, and Italy, one of the most competitive engineering, manufacturing and technology suppliers globally.
"The collaboration between ACWA Power and our Italian counterparties will enable the exchange of crucial expertise, products, and equipment. We hope this cooperation can lead to greater localisation of Italian companies in Saudi Arabia and establish the foundation for a powerful partnership in research and development. We have the ambition to make ACWA Power a vehicle to create transformative opportunities for Italian and European enterprises in Saudi Arabia and to drive sustainable progress in Italy and Europe by supplying green hydrogen and technical expertise."