To improve the energy efficiency of its smart buildings and move towards sustainability, Azizi Developments and Siemens have signed an MoU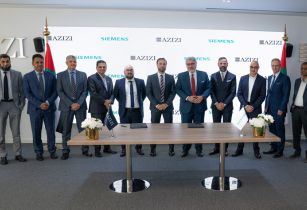 The timing of this agreement reflects the UAE's commitment to leading global sustainability initiatives as it hosts COP28. (Image source: Azizi Developments)
Siemens will support Azizi in its communities' pursuit of - and emphasis on - sustainability as part of this recently formed relationship, encompassing digital transformation, energy efficiency, sustainable design, smart communities, and water-treatment technologies.
Siemens is a technology corporation with a focus on business, transportation, infrastructure, and healthcare. The market for intelligent, adaptable infrastructure for the now and the future is being shaped by its Smart Infrastructure division. The firm connects energy systems, buildings, and industries to solve the urgent issues of urbanisation and climate change. With products, systems, solutions, and services from the point of power generation all the way to consumption, Siemens offers a complete end-to-end portfolio from a single source. This enables clients to prosper, communities to advance, and the planet to be protected.
The timing of this agreement reflects the UAE's commitment to leading global sustainability initiatives as it hosts COP28, a significant summit addressing climate change problems. The event, which runs from 30 November to 12 December at Expo City Dubai, will be attended by heads of state, members of the executive branch, top business executives, and specialists on climate change. Together, Azizi Developments and Siemens will work to build communities and infrastructure that are low-carbon, resilient, and inclusive, ultimately reaching global sustainability goals.
Farhad Azizi, CEO of Azizi Developments, said, "Embarking on this important journey with Siemens is a major stride towards a horizon of innovation and sustainability. This MoU is a testament to our commitment to shaping skylines that embrace a greener future. As the UAE takes center stage at COP28, we are joining forces with Siemens to compose a symphony of sustainable buildings and communities. This partnership echoes our vision for urban landscapes that harmonise with the environment and resonate with global sustainability goals."
"This partnership with Azizi Development marks a significant step toward advancing smart, sustainable and safe communities in the UAE," said Franco Atassi, CEO of Siemens Smart Infrastructure in the Middle East. "Siemens' technology will increase operational and energy efficiency and provide real-time, actionable data that fosters a healthier and more comfortable living environment for residents."