Drake & Scull International has won a US$43mn contract to provide complete engineering solutions to the new St Regis Hotels and Residences project in Jordan's capital Amman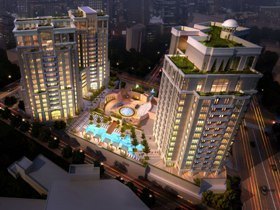 The project is the first St Regis property in Jordan. (Image source: St Regis)
The scope of the project, which is the first St Regis property in Jordan, will include carrying out mechanical, electrical and plumbing (MEP) works on the buildings.
The main contract for the St Regis Hotel & Residences project, which is a series of three 17-storey towers, was awarded to contractor Arabtec as part of a US$197mn deal.
One of the towers will include a 260-bed hotel with four restaurants, a pool, boutique retail units and conference and business facilities. The remaining two towers will house 79 serviced apartments with five-bed sky villas at the highest levels, swimming pool, fitness centre, reception area, cinema theatre and a playground.
Drake & Scull said in a statement that it has ?extensive experience? of the hospitality sector, having worked on projects such as the Baynunah Tower in Abu Dhabi, the Jumeirah Beach Hotel and Wafi Mall in Dubai and on several projects in Egypt.
The company CEO Khaldoun Tabari said, ?Winning this contract is a major step towards strengthening our presence in Jordan where the King Hussein Medical City was one of our key breakthroughs.
?The new contract underscores our successful history in offering specialised MEP services and reinforces our position as the preferred provider of integrated engineering services across the regional hospitality sector.?