DEWA has started using unmanned aerial vehicles (UAVs) to check on the photovoltaic (PV) panels on its sustainable building in Al Quoz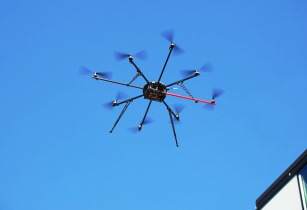 The initiative would greatly improve operational efficiency by accelerating operations, increasing safety during regular network testing and maintenance and accurately detecting failures. (Image source: Hans Braxmeier/Pixabay)
According to the DEWA, UAVs save considerable time and effort as they completely scan the building?s roof, which has an approximate area of 9,290 sq m, in less than five minutes and provide Ultra HD (4K) images with a resolution of over 20 megapixels.
The sustainable building?s rooftop hosts PV panels that produce 600kW of electricity. DEWA uses drones to monitor the cleaning activities by contractors, which are essential for the panels to function properly in a desert environment. Dust and pollution block sunlight, reducing the efficiency of the panels. That is why it was imperative to clean them regularly,
Drones are also used to inspect the water cooling process in evaporators, enabling DEWA to operate without fully shutting them down for maintenance. DEWA also uses drones to regularly review its projects and obtain progress reports by taking panoramic pictures.
The organisation launched its Sirb (Arabic for fleet) initiative to use drone technology for internal services and to support Dubai?s infrastructure, and aid smart technologies in serving Dubai?s residents.
Saeed Mohammed Al Tayer, CEO of DEWA, said, ?We have launched the Sirb initiative to support the National Innovation Strategy, launched by HH Sheikh Mohammed bin Rashid Al Maktoum, vice-president and Prime Minister of the UAE and Ruler of Dubai, to make the UAE one of the most innovative countries in the world within seven years. This will contribute to providing easier and more user-friendly services according to the highest international standards to achieve the happiness of all society.?
According to the CEO, the initiative would greatly improve operational efficiency by accelerating operations, increasing safety during regular network testing and maintenance, and accurately detecting failures. It will also help in monitoring generation, in field surveys for new projects, and in new connections for buildings and facilities in Dubai.
The drones provide early detection by using thermal imaging for overhead power lines. This limits risks and reduces costs, enables a quick response and is very accurate, making it easier to make informed decisions.
?The drones use state-of-the-art upgradable technologies such as high-definition cameras that are equipped with night-vision and laser technologies, GPS sensors, and can measure pressure, height, magnetic fields and use ultrasound scanning,? added Al Tayer.
DEWA is also looking into expanding the scope of its drone use. In addition to locating equipment, DEWA is experimenting with technology to detect overhead line insulator failures that can cause power outages.