Mitsubishi Heavy Industries (MHI) has received an order to deliver 80 units of large-scale centrifugal chillers for district cooling plant at an urban development project in Medina, Saudi Arabia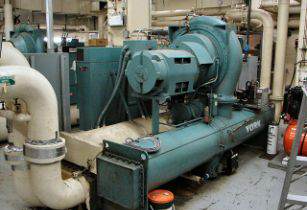 The chillers will respond optimally to the required cooling load and ambient temperature. (Image source: P199/Wikimedia Commons)
MHI will supply ordered chillers through Zamil Central Air Conditioners Co. Ltd., a subsidiary of Zamil Air Conditioner, the largest supplier of air conditioners in Saudi Arabia.
Together, the units will provide a combined 200,000 tonnes of refrigeration capacity to the district cooling plant which will supply chilled water to an area of 1.6mn sq m. This is MHI?s largest order of this kind to date, according to the company.
Each unit will consist of AART-270I variable speed drive (VSD) chiller, which can achieve high-efficiency operation by optimally responding to the required cooling load and ambient temperature.
Medina is located inland from the Red Sea coast and attracts 10mn visitors a year. According to the Japanese company, MHI centrifugal chillers will help to provide more comfortable air conditioning environment to the vast number of visitors gathering in the city.