MWM has introduced a gas genset that can be operated on natural gas blended with hydrogen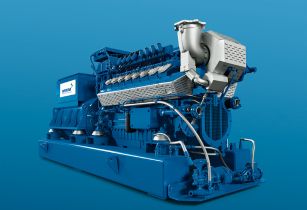 TCG 3016 series generator sets capable of 25% hydrogen blends. (Image source: MWM)
The genset, part of the TCG 3016 series, ranges from 400 kW to 1MW. It can be blended with up to 25% of hydrogen for continuous, prime, and load management applications. Additionally, the company offers retrofit kits that provide hydrogen blending capabilities of up to 25% hydrogen for existing plants.
Renewable hydrogen fuel can help to reduce greenhouse gas emissions. MWM gas generator sets offer efficiency in decentralised energy generation and can currently be operated with up to 10% hydrogen blends.
When it comes to utilising alternate forms of gas to generate electricity, MWM generators have provided a variety of biogas fuels. These include digestor biogas, landfill gas, and wastewater biogas, which can be used to power the generator sets.
As the infrastructure for supplying hydrogen develops, an increasing demand from customers is met by the creation and introduction of hydrogen blended solutions. MWM said that it is dedicated to assisting clients in achieving their climate-related objectives by offering solutions that simplify the transition to alternative fuels, boost operational effectiveness, and lower emissions.
"We offer our customers hydrogen-based high-performance energy solutions that can help them reduce greenhouse gas emissions and use more sustainable energy sources," said Tim Scott, MWM's director.
The company is a part of Caterpillar Inc., and it specialises in products that aim to develop and optimise gas engines and generator sets for natural gas, biogas and other special gases.