Honeywell?s first-of-a-kind thermostat pilot programme installed in Sharjah mosques has the potential to cut their energy consumption by more than one-third through the use of smart thermostats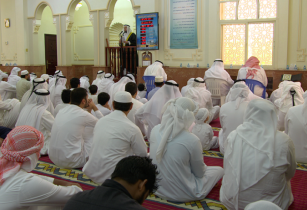 Honeywell?s thermostat at Al Tawba Mosque in Sharjah. (Image source: Honeywell)
Honeywell?s VisionPRO? 8000 thermostat for mosques, designed with an auto-azan feature that uses location coordinates to calculate prayer times and automatically adjust temperatures, was piloted at the Al Tawba Mosque over a period of six months between August 2015 and January 2016.
The results demonstrated year-over-year energy savings of 37 per cent, equating to 778KW in reduced energy consumption. The findings have been endorsed by the Sharjah government?s department of Islamic Affairs, which oversees mosques in the emirate.
Honeywell?s smart VisionPRO? 8000 thermostat was launched in August 2015 and supports the UAE?s Green Economy for Sustainable Development initiative, which aims to position the country as a hub for the export and re-export of green products and technologies. The national initiative also calls for the implementation of plans that promote the conservation of electricity, water and natural resources.
Mosques often have large open spaces and with prayers taking place five times a day, the ability to provide a comfortable, yet energy efficient environment has distinct energy saving implications. With more than 5,000 mosques in the UAE and tens of thousands more in the Gulf region, Honeywell?s technology has the potential to significantly reduce energy consumption while maintaining optimal comfort for worshippers during prayer times.
?In line with our commitment to making the region?s buildings smarter, greener, safer and more productive, we?re very pleased to see energy savings being achieved as a result of our trial in the UAE,? said Norm Gilsdorf, president for Honeywell?s Middle East, Russia and Central Asia regions.
?With this unique product, mosques in the region can be made more comfortable when required, while also providing an intuitive and sustainable solution for mosque caretakers during off-peak times.?
According to Honeywell, following the encouraging results of the Sharjah pilot programme, Honeywell is conducting other pilot studies at various mosques in the UAE and Saudi Arabia, with more being planned in other Middle Eastern countries. Honeywell?s VisionPRO? 8000 for mosques features include:
? Effortless programming to automatically schedule optimal comfort during prayer times according to location and time of year
? ?Holiday Mode? with override switch for special occasions such as Ramadan, Eid and other religious holidays
? ?Adaptive Intelligent Recovery? ? VisionPRO? 8000 thermostat memorises how long it takes the system to reach the desired temperature. It turns on the cooling system in advance to ensure the temperature reaches the optimal level at the desired time.