Siemens has completed extensive service operations on the gas turbines at Jebel Ali K-station in a record time of only 29 working days, a notable accomplishment for a project of this scale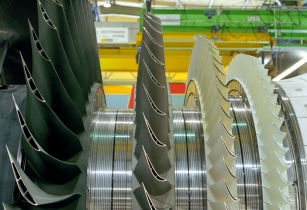 The rotor of an SGT5-4000F gas turbine during assembly. (Image source: Siemens)
The power plant is located in Dubai and owned by Dubai Electricity and Water Authority (DEWA) and in operation since 2002.
The outage featured the application of the "rotor-swap"; a pioneering concept that has been developed by DEWA to utilise a spare rotor and other critical parts, stored at the plant's site, to maximise each unit's availability and reduce idle time while waiting for the completion of rotor assembly work.
Under terms of the agreement, Siemens provided supervisory services for three of Jebel Ali K-station's gas turbines to enable further efficient and reliable operation for approximately 100,000 hours ? equivalent to about 15 years. The upgrades also increased power output by 62.6 megawatts (MW) and improved power plant efficiency by about 0.5 per cent.
"The new project is built on over 30 years of trust and partnership with Siemens. We are very pleased to work with the company again and successfully complete services of Jebel Ali K-station's power assets so quickly, which allowed the plant to reduce the length of maintenance outage and return the turbines to service as early as possible," said Nasser Lootah, Executive Vice President of DEWA. "With this project, we will enhance the power output and the long-term availability of our power generation assets."
After a certain number of operating hours, all gas turbines need to be dismantled for maintenance services. Typically, an outage of this kind would take up to 45 working days to complete, involving over 100 personnel with different areas of technical expertise. By implementing a newer outage concept, Siemens was able to perform the services within just 29 working days, setting a new benchmark in the global power service industry.
Recently, Siemens and Dubai Electricity and Water Authority (DEWA) have signed an agreement to collaborate on an advanced data-driven project. Siemens and DEWA are working together to identify ways to improve thermal efficiency, provide cost-effective solutions for performance optimization, manage costs and reduce fuel consumption and emissions.