Centro Elettrotecnico Sperimentale Italiano?s (CESI) Middle East unit has signed an agreement with Saudi Electricity Company (SEC) for assistance in the implementation of a High Voltage Direct Current (HVDC) power transportation interconnector between Riyadh and Mecca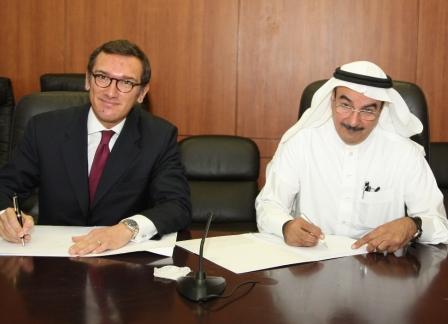 Matteo Codazzi and Ali Al Barrak of SEC sign the contract. (Image source: CESI)
The new 800km HDVC link will run between the Dharma and Bahra stations, thereby linking Riyadh and Mecca. The Italian company said in a statement that the link would not only increase the power generation capacity of local distribution networks, which frequently experience power disturbances, power failures and outages, but also provide a reliable back-up energy supply in emergency situations.
HVDC is a specific, technologically-advanced power link, which is primarily used for reliable long-distance electricity transmission.
Commenting on the agreement, CESI CEO Matteo Codazzi said, ?We are honored to work on such an important project with SEC. Through projects such as this whereby CESI?s initiatives help clients overcome challenges related to growing energy demand, it also allows CESI achieve its overarching goal to take the lead in the Middle East?s drive towards energy efficiency, conservation and long-term sustainability.?
Floris Schulze, managing director of CESI Middle East, added, ?This initiative delivers the solution to a real market need faced by the Kingdom?s central and western regions, which have recently experienced increased power outages and disturbances due to the growing high energy demand.
?In addition, this project will also have a positive impact on SEC?s business, as this link will provide SEC with a back-up power system for emergency situations, while providing a reliable energy source at the lowest cost to consumers under normal circumstances.?
CESI Middle East will be working in collaboration with Tractebel Engineering on the project.