Dubai Electricity and Water Authority (DEWA) has commissioned a main substation in Jebel Ali Free Zone to support its 132kV high-voltage power transmission network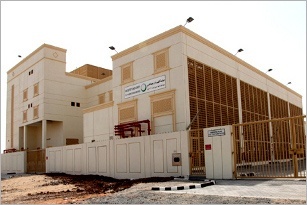 The 132/11kV substation has a transmission capacity of 150MVA. (Image source: DEWA)
The new 132/11kV substation with a transmission capacity of 150MVA was set up at a cost of approximately US$29.5 million.
The project also involved laying 132kV underground cables at an additional cost of $9.5 million.
DEWA chief executive officer Saeed Mohammed Al Tayer said, "This $39 million project will enhance DEWA's network capacity to transmit power to the south Jebel Ali Free Zone, with 4.75km of underground cables offering a voltage of 132kV.
"It connects the new station to the main 132/11kV substation in north Jebel Ali Free Zone, and the main 400/132kV substation located in the south Jebel Ali Free Zone," he added.
According to DEWA, the substations feature the latest and most advanced digital technology to ensure reliability at the facilities.
The authority highlighted that the upgrading of existing stations is only an extension of the main project, which involved the construction of 29 new substations with a voltage capacity of 132kV.