Drydocks World has announced the completion of the HVDC converter platform, DolWin beta, the world?s largest offshore platform in terms of capacity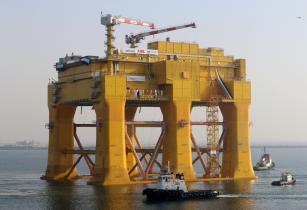 DolWin beta weighs approximately 23,000 mt and stands at 90m high
Built at the company?s Dubai-based shipyard, DolWin beta weighed in at approximately 23,000 mt and measured 100m long, 70m wide, and 90m high.
According to the international maritime vessel conversion, new building, and offshore construction service provider, the successful completion of the heavy platform is evidence of its expertise and moves the company up into ?the top league of a few specialized shipyards in the world?.
H.E. Khamis Juma Buamim, chairman of Drydocks World & Maritime World, said, ?This is a testament to our engineering and production excellence and extensive capability to deliver highly outstanding projects of a sophisticated nature in a timely and efficient manner utilising internal resources.?
The large platform is destined for the German sector of the North Sea where it will connect large offshore wind farms located in the DolWin cluster 45 km off the coast. Once installed DolWin will stand on the seabed at a depth of approximately 30m and have a generating capacity of more than 900 MW.
It will make up the prime part of DolWin2, which is an offshore grid connection run by TenneT, a national electricity transmission system operator for the Netherlands and a large part of Germany.
H.E. Khamis Juma Buamim added, ?Our foray into the offshore oil and gas sector and energy sector has met with great success and this project has established our credentials as a reliable service provider to the sector.?