Qatar General Electricity & Water Corporation (Kahramaa) has awarded Siemens two contracts, worth a total of US$201.3mn, to supply equipment to improve Qatar's power infrastructure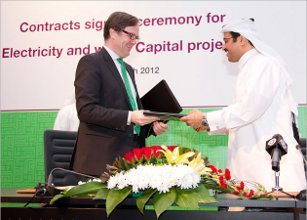 Kahramaa awards Siemens two power contracts worth US$201.3mn.
Under the first contract, worth US$18mn, Siemens will supply Kahramaa equipment for Phase 10 of the Qatar Power Transmission System Expansion project, ensuring uninterrupted power supplies to buildings throughout Doha.
The equipment includes gas-insulated switchgear (GIS), power and earthing transformers, shunt reactors, protection relays, relay protection panels and substation control systems for substations located in and around the capital.
"These projects are another positive step in the development of Qatar's power industry," said Siemens Qatar CEO, Martin ? Porta. "The expansion of Qatar is necessitating the growth of its infrastructure and Siemens has the portfolio of services to provide the specialist equipment, innovative solutions and support."
The Phase 10 project will be broken down into two stages, with Stage 1 consisting of six 66/11KV turnkey substations and Stage 2 comprising seven 132/66/11KV turnkey substations. Both stages are set to be completed over two years.
"For Siemens, securing this innovative smart-grid solution represents a significant step forward in developing its global business," said ? Porta. "Successful implementation of this project will put Siemens in a strong position to secure additional smart metering business in the Middle East."
The second contract is worth US$13mn and includes the installation of approximately 17,000 smart meters and the supply of communication modules for 15,000 water meters.
The purpose of the smart metering project is to test the environment, rules and regulations for managing customer demand during peak periods and improve the customer billing process.
The scope of the project, which covers three areas in Doha, includes: delivering a communication network to connect the meters to an existing fibre-optic network at the 66 kV substations; integrating existing back-office systems to improve the billing process; providing GPS location information for all the meters/modules, and integrating the Itron-provided AMR (automatic meter reading) solution in the Pearl of Qatar.