AEM Unicore has launched transformer cores for general purpose and distribution transformers (500 VA-5000 kVA)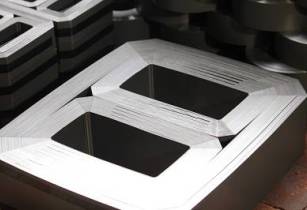 A Phase Three Unicore. (Image source: AEM Unicore)
AEM Unicore is a world-leader in transformer core technology, with more than 45 years? experience.
Specialising in research and development (R&D), AEM manufactures Unicore machinery and test equipment, as well as supplying magnetic cores.
Unicores hold many advantages for general purpose and distribution transformers, including lower losses, more efficient production and easier assembly.
Unicores are used for single- and three-phase applications such as general purpose transformers, voltage transformers and distribution transformers, including the pole- and pad-mounted varieties.
Distribution and general purpose transformers
For distribution transformers, Unicores provide a highly flexible, accurate and reliable production system, with all of the inherent advantages of wound core technology such as low core loss, fast assembly and high output relative to capital investment.
For general purpose transformers, Unicores have lower losses than C-Cores or E&I and 90? cut laminations.
Reliable and flexible transformer cores
The developer and manufacturer of the Unicore Machine, AEM has sold nearly 400 units in more than 40 countries worldwide.
AEM Unicore machinery is used for manufacturing low-loss distribution and general purpose transformer cores. It is preferred by major manufacturers in North and South America, India, Europe and Asia.
The company?s Unicore machines provide greater flexibility, accuracy and reliability and eliminate the need for fixed tooling such as jigs and mandrels.
The highly accurate Unicore production method results in improved control over core specifications and quality, as well as smaller and lighter transformers with improved energy efficiency, resulting in savings in power, cost and materials.
The Unicore machines feature an interactive programming system that is operated by a user-friendly HMI. Several design options are available on the core design screens. There is also a production screen, which enables control of work batches and displays the core status.
The new UCM300 and UCM425 Unicore machines feature an integrated dust extraction hood, industrial touch screen controller, four cutting edges per carbide blade, servo motor driven cut and fold and feed, as well as lower operating costs and quieter and faster operation. The UCM300 produces cores with steel up to 300mm wide and the UCM425 up to 425mm wide.
Customisable Unicores
The techniques used by AEM in machinery, software and production ensure that cores can be designed and manufactured in numerous varieties.
The range of Unicores offered by AEM is therefore extensive, with customisable single and three-phase versions available.